Shopping.
I needed to limit my shopping into ,,Buy only things you actually need".
Well, it worked, more or less.
Let's start with the state of my hair.Since I am dying them about twice a month with lighter and lighter shades, they tend to be dry and thin, but never actually abandoned the act of oily hair.
So, oily at the top, dry at the end. I am also waiting for my hairdresser to get healthy after operation, because NO, I don't want anyone else touching my hair right now, when I am trying to grow them up a bit.
Okay.
So I bought this: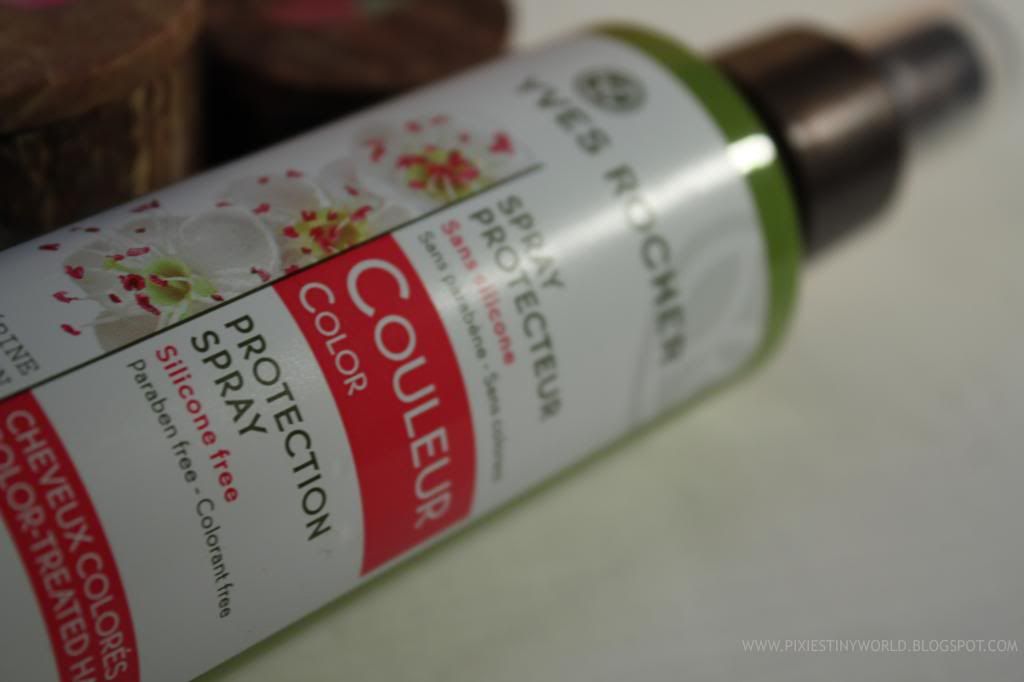 It's hair protection spray for coloured hair. And it helps, it's easier to comb them, and they're not so.. crepe?
And it smells nice.
Another thing for my hair is Biosilk.
I heard/read a lot about it on blogs I follow. I think nearly every blogger in CR tried it already.
I've got mine more or less by accident, when I was buying my make-up, standing at the cash desk, I noticed tiny boxes with Biosilk on the counter, so I threw two in, one for me and one for my mum.
I really like the smell on it, and it does miracles to the parts of my healthy hair, they really are silky, but doesn't actually helps to smooth these really dry ends.
But I think nothing but cutting will help them, so, consider Biosilk as recommended.
Body and skin
One of two body products I bought in last mont was this
sugar scrub
from Lush.
I don't know.
It smells awesome, it really is very...effective scrub (maybe even too much), but I didn't noticed any change on my skin, BUT, I don't know if there's supposted to be any visible affect. It's just a scrub.
So, for smell, and trying the thing I wanted to try since my first visit at Lush store, I am quite satysfied.
Next thing is Manufacture
orange peeling soap
with smells SO GOOD I didn't even used it, because I don't want to ruin it I love the smell every time I open my warderobe.
And I forgot to take a picture.
And now skin.
I have terrible oily skin with big, very noticeable pores and inclination to acne and it's not easy to clean it up properly from make-up.
I was using gel from L'Occitane util now, but I used it all and now I run out of the money and I dodn't want to bother my parents with it, so I went with cheaper version.
So, Yves Rocher Camille creasing gel it is.
Doesn't smell as good as L'Occitane products, but you need very little of it to clean up your whole face, and since it's in quite a big bottle, it lasts very long. Cool.
Body Shop Blue Corn mask
This is pretty agressive stuff. Every time I put it on my face, it actually stings and burns, but skin is really clear after using it. Also, it has tiny bits of... a corn, most likely, in it, so you can use it as a peeling before letting it dry on your face, or after, when you're washing it off.
Going on to the make-up stuff.
Clinique make-up.
Yes.
Me.
800 Crowns for a make-up.
BUT
It totally worth it. Screw you, Essence, Maybeline, NYC, Miss Sporty and all!
With make - up I needed a proper brush, so I could put it on my sking more effectively.
First was make-up brush from elf, which was terrible, and the next one ->
Top Shop make-up brush
Price was a bit over 20 Czk, but with ISIC card it was about 169Czk I think, which is pretty awesome, since the prices are always over 250 Czk.
And it's good. I love this brush.
And the last one is mascara from NYC.
It does all the things all my mascara did - it makes black circles around my eyes.
Or, more likely, just highlit my natural ones. It's because my oily skin.
But it was only mascara which didn't do that ,,three thick eyelashes" effect, because I SO HATE IT.
And these pieces of mascara on your eyelashes, it's disghousting.
This is what I mean:
(Stolen from random blogs)
Really, do you consider this pretty? Or sexy?
Bleh.
Anyway, the one I choose doesn't do that. :)
And now the other things.

These pencils.
I can't.
My old pen started leaking and then stopped writing, so I needed another one.
My new diary.
Maybe you remember my ,,Keep calm it's friday" diary... Well, it fell apart as expected.
Deciding between brain, leg and kostume one was difficult, but I made it.
Ha.

The end. :)